Harlyn's Rebbba's Destruction's
AKC Flashy Brindle Female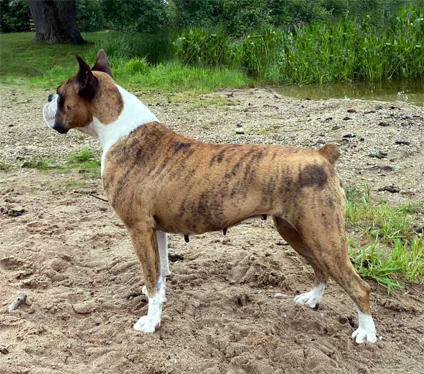 AKC Flashy Brindle Female
Born 07/22/2016
Height: 20.5 inches
Weight: 53 pounds
Brucellosis Negative
(click underlined text for actual test results)
Animal Genetics DNA Tested
Holter Report February 2020
Auscultation: Normal 3/3/2020
Thyroid Panel: Normal 6/14/2020
Hip Evaluation

(scored 0-1, 0 being excellent)
Her name is Bee, like a honey bee. We had to emphasize the b in her Rebbba's name and make it go with our nature theme here with Rayne, Bo, Lily and Sunshine.
This little girl has the nicest face of all our boxers, and she's just a sweet, sweet girl.
Bee will be going for her AKC CGC title this summer. We have begun Bee's health testing, and unfortunately she is homozygous for DM so all of her puppies will be carriers when bred to Bo, but carriers are not at risk of developing the disease and they should just not be bred to other carriers. As pets, the single DM gene is irrelevant. On a great note, Bee's heart is flawless!
Bee is as loyal as they come and super well mannered. I didn't plan to add anymore females to my pack, but this girl was too hard to resist. Even my husband fell in love.
Bee's pedigree
Diablos Creed Destruction
Brindle
Alfa Moose the Distroyer
Maximum Destruction V
Layla Jo Hutchins
General Ziva
Eash's Chief
Generals Leah
Zoey's Celestial Apocalypse
Fawn
Jake Allen Turnball
Apollio Stevens
Lita Marie Welsh
Izzabella Marie Turnbull
Who's Your Daddy Draco
Gardoena Gabrielle Goss