Bo
AKC Plain Reverse Brindle Male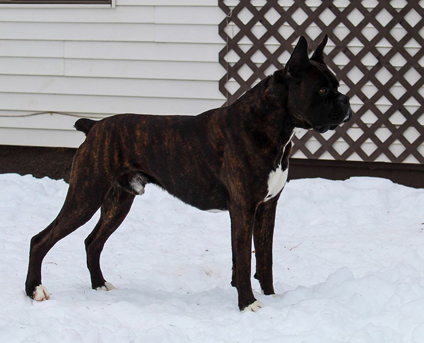 AKC Plain Reverse Brindle Male
AKC Canine Good Citizen
Born 05/12/2016
Height: 25 inches
Weight: 85 pounds
Available For Stud
Will never sire a white puppy
(DNA tested negative for S locus)
(click underlined text for actual test results)
Animal Genetics DNA Tested
Holter Report January 2021
Holter Report January 2020
Auscultation: Normal 2/12/2020
Echo: Normal 2/12/2020
Thyroid Panel: Normal 7/19/2020
Hip Evaluation

(scored 0-1, 0 being excellent)
His name is Bo, as in rainbow. At Raynen Boxers all the dogs have nature names. Bo's grandma, Rayne; and girlfriends Sunshine, Lily and Bee.
This guy is big and beautiful, and the most laid back male boxer I've ever met. The big size comes from Rayne's bloodline and with Rayne's bloodline comes the mellow nature too. Everyone loves this dog.
Bo is currently working towards his AKC CGC title. He is fully health tested for everything the Boxer Breed Club recommends, except thyroid panel, only because I choose to not test for that.
This handsome stud is available for service to approved females. $1200 fee, paid up front. The female comes to us. We have a contract that makes this fee payable per puppy. We charge $125 per puppy in your litter (only puppies who survive to 4 weeks), and reimburse the difference. If your female has a litter of 5, your stud fee is $625 and we send you a check back for $575. But our max fee is $1200, even if you have 15 puppies.
Bo's pedigree
Colemans Raynen Hot on Harlyns List
Brindle
Vicson's Hot To Trot At Bear Trap
Donandru's Dartanian Viscon
Vicson's Donandru Chillie Popper
Raynen On Your Parade
Shadows Of The Last Chance
Spicen' It Up
SDK's Black Knight Justice
Brindle
Magnus Duece Carmody
Arthur Bailey Beck
Bridgett Christine Beck
Anna Nicole Pebbles Carmody
Horace Jason Jackson
Twillas Little Bit Of Honey