Parents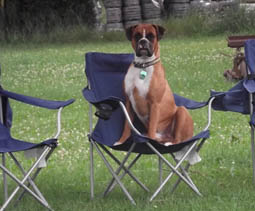 Wrecker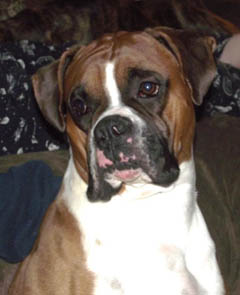 Wrecker is a typical male Boxer: Goofy, loveable and exceptionally tolerant of anything a toddler can throw at him. What he lacks in brain he makes up for with beauty and brawn. Wrecker is the dad to many of our litters, including some of the females we have kept.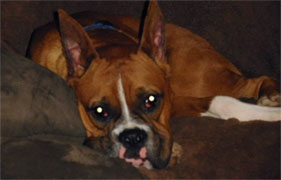 Luke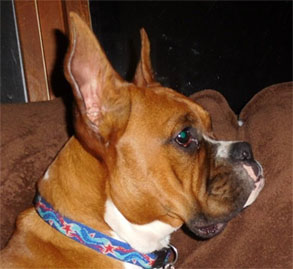 Luke is our newest family member. This guy is a wonderful addition to our home. He has all the qualities we strive for and has a bonus super calm personality. He should produce some exceptional litters with our Wrecker daughters.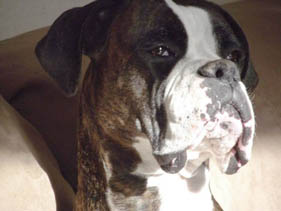 Spice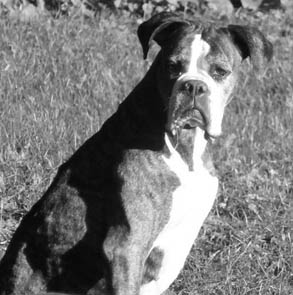 Spice earned her nickname "Old Dog" through the many years of love and devotion she gifted to us. She raised many puppies, and today Boxer owners are enjoying her descendents several generations down the line. The Old Dog crossed the Rainbow Bridge in 2015 and our home will never be the same without her. Her signature big droopy lips and her loyalty made her absolutely unforgettable.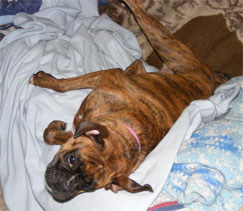 Faith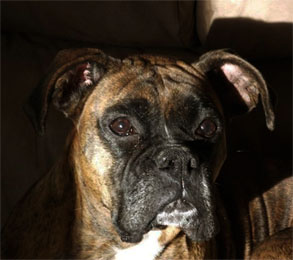 Faith was a remarkable mother. Good old "Fat Dog" as we affectionalely called her raised many very nice puppies for us. She was the daughter of our second Boxer and was a huge part of our lives for several years. Unfortunately we had to say goodbye to Faith in 2013. Her kisses are dearly missed.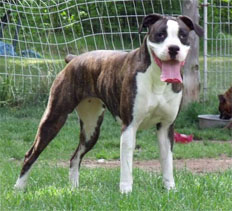 Beast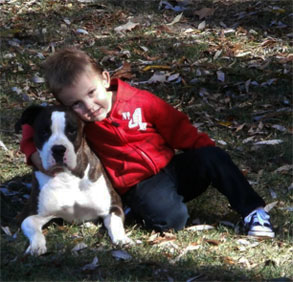 Beastie was our pick of the Spice puppies. Once a wild and crazy adolescent, Beastie is a traditional couch potato these days. She is Charm's grandmother and one of our favorite wiggle butts.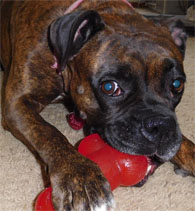 Grace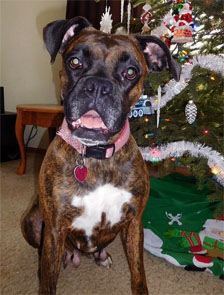 Grace has the personality to brighten the whole room. She's happy, bubbily and always full of energy. Her exuberance is a great attribute to cross with our more mellow males. This girl has "graced" us with some of our best puppies.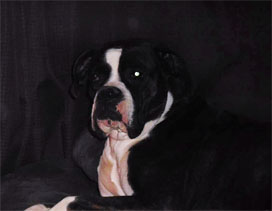 Charm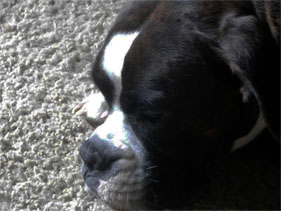 Charm is a culmination of our breeding program. The granddaughter of Beast and Wrecker (great granddaughter of Spice), she is everything we hoped to produce, even after a few generations. This beautiful lady is as charming and sweet as she is pretty.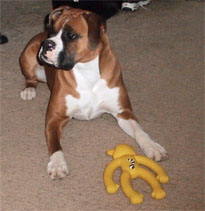 Rylea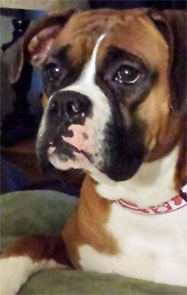 Rylea is our beautiful daughter of Wrecker and Grace. She is easily one of our nicest puppies. We are in love with this girl and very excited about the future.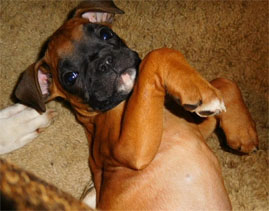 Teeny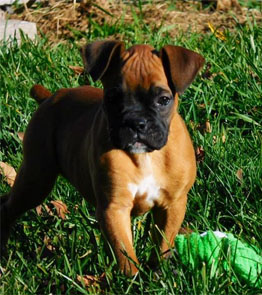 Teeny is Rylea's younger sister. While Rylea is more laid back like Wrecker, Teeny is just as full of life as Grace. This beautiful little girl makes my heart happy.
Lorie Boodry. All Rights Reserved. Site proudly maintained and hosted by Klassic Designs.