We try to keep in touch with the buyers of our puppies. If you have bought a puppy from Lorie Boodry or Serenity Anderson and would like to see your dog featured here, please email serenitylist@yahoo.com.

These photos are shared by their respective owners. Please do not take them.


Would you like to see references?
We have sold puppies to many happy people.

The Careys keep coming back for more . . .




(from left to right) Ollie and Oscar (from a 2008 litter), Bert (from 2006),
and Pete (from 2009)
These boys are out of Spice, by Chance. They are full brothers to Rayne and Beast.


We shared photos of Faith's 2009 litter with the Careys. Here's what Deni had to say...

Really unfair to send those pictures. Real cuties. I can't tell you how many times I've looked at the puppy pictures. I'd be a sucker for one or two, but I think we will have to wait a few years. Boys are all great. We were out at the farm and Oscar just runs and runs with little Petie trying to keep up. All of a sudden they realize that they can't see Bert and come looking for him. Bert has become very protective of the puppies, grand daughters ect. He is always around if a stranger shows up. The vet has a boxer and says she has never seen a boxer with such a large chest. Bert is at 100 lbs, Oscar is 80 lbs, Ollie is 65 lbs and Petie is 31 lbs. Oscar is taller then Bert, Ollie is thin and built for speed. I would guess Petie will follow in Berts frame. Judi now sleeps in the guest bedroom and the two boys sleep with me. If anyone ever needs to get a push to get one of your pups have them call me. We have had boxers since 1971. Great dogs and you sure have some of the best. Thanks again. Deni

The latest Carey family update . . .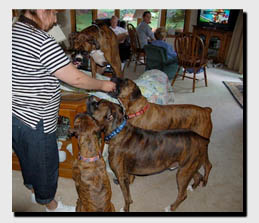 From the top Ollie 70 lbs (2008 litter), Oscar 105 lbs (2008 litter), Bert 115lbs (2006 litter), Petie 65 lbs. (2009 litter). These boys are out of Spice, by Chance. They are full brothers to Rayne and Beast.
Ollie and Petie will not get any bigger. Bert is 10 lbs to big. Oscar who looked very much like a great dane, long and spindly with a longer snout. He is filling out. His head is gotten bigger so his snout is boxer like, his chest has expanded a lot. He now looks like a HUGE boxer. All the vets can't believe his size. All are wonderful and get along well. Bert is very protective of little Oscar. Bert settles any disputes by using his front paw and just slams them down. Bert and Oscar both sleep with me. Very cozy. Judi and I are getting older and Bert and Oscar provide us with a great deal of comfort and love. Deni
---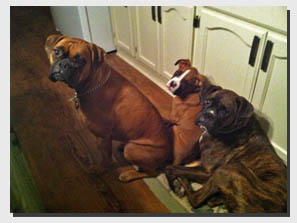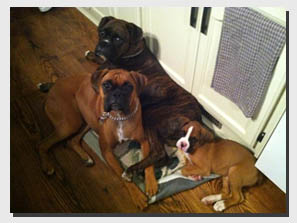 Zeno, Zoey, and Zeus
These beautiful dogs are all from Faith! The brindle is Zeno, a son of Chance (from 2008) and the fawns are sired by Wrecker. The classic fawn is Zoey from 2011 and the flashy fawn is Zeus from 2012.


Shelley Jansen is the lucky owner of these beautiful dogs. She sure loves her Faith puppies!


---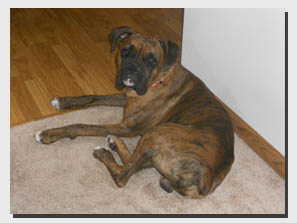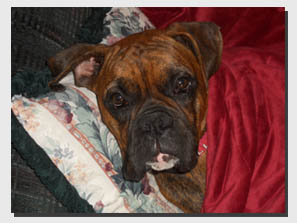 Nitro
This gorgeous brindle is the male puppy from Rayne & Wrecker's 2011 litter.


His loving mom is Samantha Stankowski.
Here is what Samantha had to say...

Hey!
Nitro is doing really good :) He has grown to be such a handsome dog, I can't believe how big he has gotten! He's a bit naughty sometimes, but he's still a puppy and we love him anyway. lol He loves to run around and has tons of energy :) I attached some pics of him :) Let me know what you think!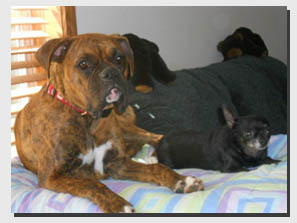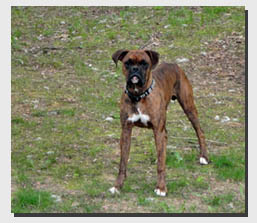 ---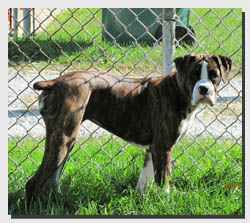 Angel Spice
Angel Spice is from Beast & Wrecker's 2011 litter.


Angel Spice lives in Illinois with her proud dad Doug.

Thanx again for a nice pup! Doug.


---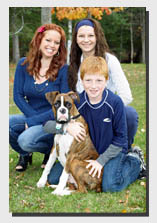 Rey
Rey is one of the flashy males from Beast & Wrecker's 2011 litter.
---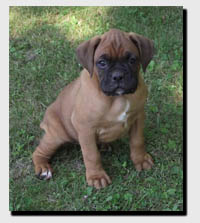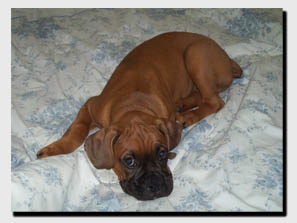 George
This handsome boy is from Faith & Wrecker's 2011 litter.


His proud mom is Jodi Blom. Here is what Jodi had to say...

It was my lucky day when I found out about Raynenboxers. Lorie and Serenity raise beautiful puppies! George has been a joy to have and lives up to the boxer personality 100%. I can't wait to see him grow into the handsome guy he is going to become! Thank you Lorie and Serenity for such a wonderful puppy!!!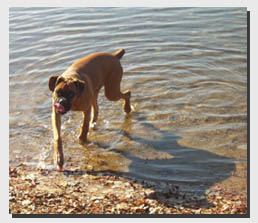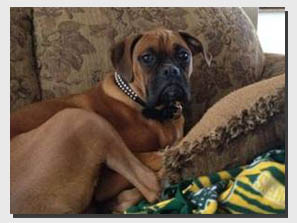 Here is Jodi's latest update...

Hi Lorie and Serenity,
Just thought I'd send a picture of George (just about 9 months). He weighs in at 76 right now but is still growing. He is the biggest mush baby you'd ever want to meet. He has a chocolate lab girlfriend named Josie that he plays with once a week and she sure wears him out.


---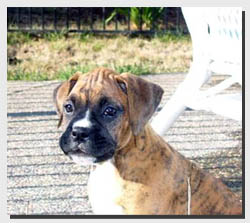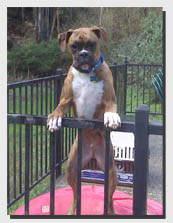 Bentley
This lucky dog lives in California! Bentley is from Faith's 2009 litter (by Chance).


Bentley is owned by Sheri & Family in California.


---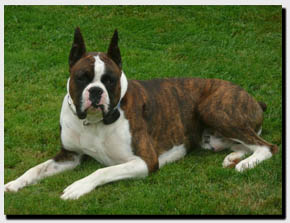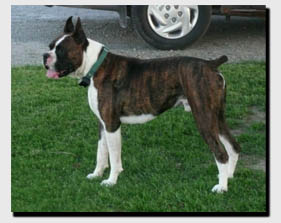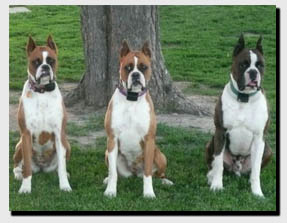 Raynen Hot On Harlyn's List aka Coleman
This flashy boy is out of Rayne by Sammy (owned by Bear Trap Boxers).
(The fawns are great-granddaughters of Spice & Chance.)


Coleman is owned by Lynn Albert of Seymour, WI. She had his ears cropped...what a majestic look!


---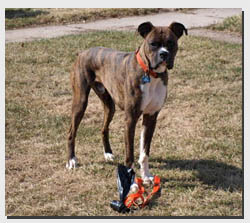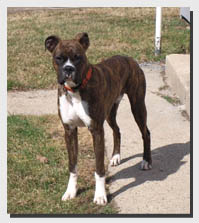 Shorts
Shorts was the biggest puppy in Rayne's first litter (by Sammy, owned by Bear Trap Boxers).


Shorts is owned by Nic & Angel Joosten of Green Bay, WI. He is almost 70 lbs. now at a year old.


---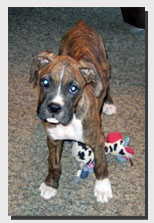 Bentley
Bentley is from Rayne's first litter (by Sammy, owned by Bear Trap Boxers).


Bentley is owned by Niki Spencer of Manistique, MI.
Here is what Niki had to say...

Yes, he's very tall! I think he's going to be a big boy. He weighed 17 lbs about two weeks ago. He's such a sweet; well behaved little guy. I bring him to work with me when I can, so that he will get well aquainted with people. He even has his own chair to sit in! He is bringing out the puppy in all my other dogs now. Him and the dog in the picture dig holes together and tore up one of their dog beds the other day! LOL! I'll keep you updated and send more pictures.


---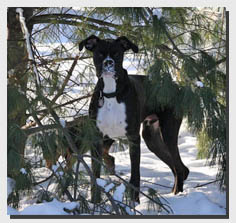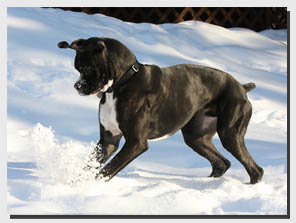 Gavin Mickey Palmer aka Gavin
This adorable lil' man is the smallest puppy from Rayne's first litter (by Sammy, owned by Bear Trap Boxers).


Gavin is owned by Jim & Tracy Palmer of Madison, WI.
Jim says Gavin is approaching 50 lbs. now (7 months old) and absolutely loves the snow.
Gosh he is a pretty boy, Jim!


---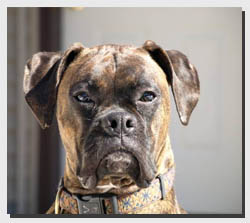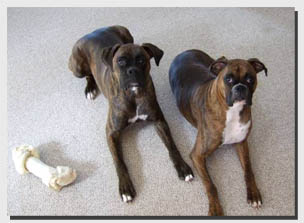 Snoogie Bear & Sadie Lady
The dark dog, Snoogie Bear, is from Faith's 2006 litter (by Chance).
The lighter dog, Sadie, is from Spice's 2006 litter (by Chance).
Snoogie Bear & Sadie Lady are owned by Val Brooks of Wisconsin. In 2008 she added another male puppy from Faith and Chance to her family. :)
---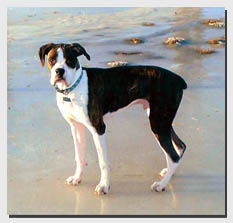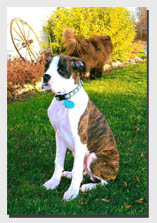 Jasper
This is the flashiest puppy from Rayne's first litter (by Sammy, owned by Bear Trap Boxers).


Jasper is owned by the Logerquist Family of Sturgeon Bay, WI.
The Logerquists adore Jasper. Laura says he has been easy to train and they are excited to add another one to the family.

---
This website is created and maintained by Klassic Web Designs.
Images and text are the property of Serenity Anderson & Lorie Boodry
Copyright © 2013