Buying our puppies
Our puppies are raised in our home with other dogs and children. We offer a 26 month health guarantee and several money back incentives.
Your puppy will receive all age appropriate deworming and vaccinations, a fecal exam, along with a wellness exam, a goody bag, and veterinary tail docking/dew claw removal. We do offer the option to keep the tail on your puppy, but pup must be selected and paid in full by 3 days old.
Our puppies sell before they are born via a waiting list. Ask us about placing a REFUNDABLE deposit to get yourself a Raynen Boxer puppy.
Sunshine is bred to Bo, puppies due August 27, 2020
Puppies will be DM clear and ARVC clear by parentage. Feel free to email us if you have any questions or concerns.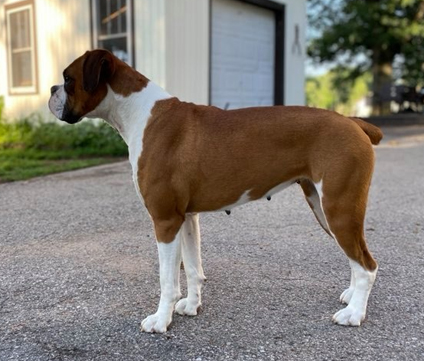 AKC Flashy Fawn Female
AKC Canine Good Citizen
AKC STAR Puppy Award
Born 10/10/2018
Height: 22 inches
Weight: 58 pounds
Brucellosis Negative
(click underlined text for actual test results)
Animal Genetics DNA Tested
Holter Report December 2019
Auscultation: Normal 4/29/2020
Thyroid Panel: Normal 6/14/2020
Hip Evaluation

(scored 0-1, 0 being excellent)
Bee is bred to Bo, puppies due September 1, 2020
All of Bee's puppies will be dm carriers. Carrying dm is only relevant if you plan to breed, it is harmless to the dog itself. Feel free to email us if you have any questions or concerns.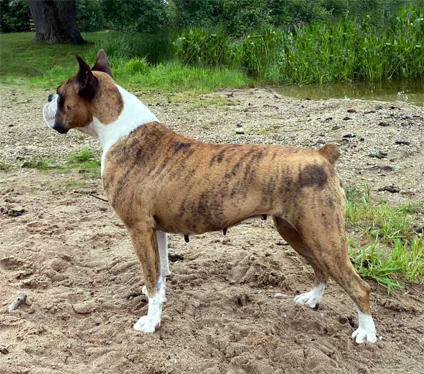 AKC Flashy Brindle Female
Born 07/22/2016
Height: 20.5 inches
Weight: 53 pounds
Brucellosis Negative
(click underlined text for actual test results)
Animal Genetics DNA Tested
Holter Report February 2020
Auscultation: Normal 3/3/2020
Thyroid Panel: Normal 6/14/2020
Hip Evaluation

(scored 0-1, 0 being excellent)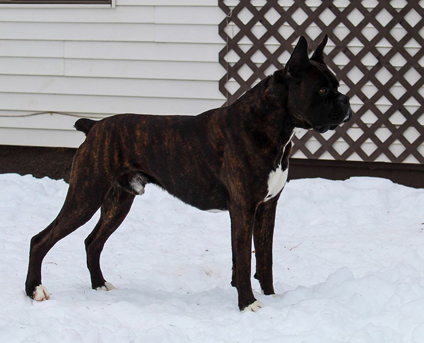 AKC Plain Reverse Brindle Male
AKC Canine Good Citizen
Born 05/12/2016
Height: 25 inches
Weight: 85 pounds
Available For Stud
Will never sire a white puppy
(DNA tested negative for S locus)
(click underlined text for actual test results)
Animal Genetics DNA Tested
Holter Report January 2020
Echocardiogram: Normal
Auscultation: Normal 2/12/2020
Thyroid Panel: Normal 7/19/2020
Hip Evaluation

(scored 0-1, 0 being excellent)